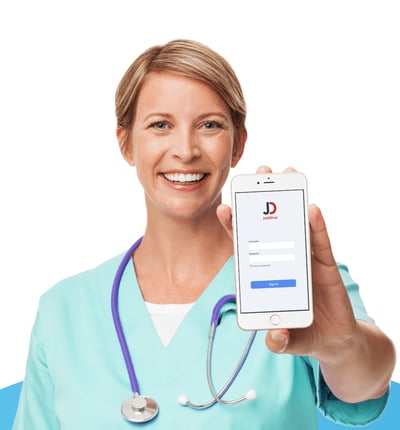 "The ease of use and interface-it's visually appealing. All the clusters make it organized and easy to find what I'm looking for, whether that is a talent search, job search, or report of notes." - Whitney B. ADEX Medical Staffing
"I really like the overall database of JobDiva. It is easy to locate candidates and find contact information. The attachments folder is a great tool to save the documents that we utilize on a daily basis, with ease of access. It is easy to reach the phone numbers, emails and addresses. The texting feature is great to be able to communicate with candidates about reminders and updates needed." - Abigail E. ADEX Medical Staffing
Very intuitive, fantastic customer service, streamlined business flows, and tremendously flexible solutions. - Jourdan B. Staffing the Universe
Become a Healthcare Recruitment Outsourcer
Become the HR department of choice for hospital systems, physicians' groups and more.
JobDiva helps reduce costs by finding you trained professionals with agility.
Deliver must-have healthcare professionals at a fraction of your competitors' cost.
JobDiva always reflects the latest standards and regulations in the healthcare industry.
Healthcare Workforce Solutions
Need to schedule a nurse for urgent care tonight? Schedule shifts for healthcare roles on the fly.
Specify different bill rates for different positions.
Set employee availability and locate qualified, available candidates instantly.
JobDiva is built for per diem, locum tenens, government contracting, allied healthcare, and many other healthcare staffing types
Onboarding, Pre-Onboarding and Credentialing
Use JobDiva's credentialing system to pre-onboard your candidates.
Know instantly who pre-qualifies for an opening with JobDiva's pre-onboarding system.
Speed up the onboarding process with JobDiva's E-Verify System.
Stay compliant with JobDiva's licenses/certifications and background check modules.
Business Intelligence Solutions for Healthcare
JobDiva's staffing software warehouses years of your data and automatically analyzes it.
Provide health systems in-depth, visualized reports and win more business.
JobDiva's Business Intelligence tools show the latest on locations, facilities and roles
Meeting Diversity Requirements
Recruit for clients that emphasize diversity with JobDiva's subcontracting process.
Diversify your spend with JobDiva's EEO report.
The EEO report forms an audit trail.
Robust Client and Candidate Communications for Healthcare Staffing
Stay in communication with candidates and clients using JobDiva's email integration.
You can carry on an entire text conversation from within JobDiva.
Emails and text messages will be saved in the system. Phone calls can be tracked.
Send skills competency tests through JobDiva's e-interview platform.
On-the-Go Mobile Healthcare Tracking
Use JobDiva's iOS/Android App to communicate with employees and clients on the go.
Send texts, emails and more from the App.
Use your mobile App to find must-have information while out and about.
View and approve your assigned staff's timecards directly from the App.
Reimagine Healthcare Staffing Solutions
Healthcare staffing is set to grow astronomically. According to Staffing Industry Analysts, the US healthcare staffing market is poised to be worth $17.4 billion in 2019; that adds up to 4% growth compared to 2018. The question is—how can you use smart software solutions to seize as much market share as possible?
Healthcare employment is expanding; healthcare is growing as a proportion of national spending in the United States. The Bureau of Labor Statistics (BLS) predicts that healthcare industry employment will grow 19% to 19 million individuals, by 2026.
This means that there will be more opportunities for temporary health staffing—but there will also be more competition.
At the same time, hospitals are having difficulty meeting increased demand. As large medical systems work to rationalize their care delivery, they could very well turn to staffing companies to fill gaps in their employment.
You'll need to differentiate yourself to win business and impress clients. But how?
Software Solutions
The answer is fairly simple. Healthcare recruiting software is going to be important going into the future. Most experts agree on that.
Whether it's scheduling nurses or credentialing paraprofessionals, you'll need to be equipped with the best software.
Software is growing in importance. As a healthcare staffing firm, you must choose your staffing solutions wisely.
Candidate Experience and Engagement
Candidate experience is going to matter, too. RNs with flexible schedules are often stressed, and recruiters who treat them well will stand out.
That leaves an important question. How will you identify the right tools? The right technology?
If you utilize the top cloud based technology, you can rise to the top. If you do not, you can easily fall behind.
Get Ready for the Future
Technology is becoming essential to operations for healthcare staffing and recruitment.
For example, recently, Jackson Healthcare—one of the most significant US healthcare staffing enterprises—appointed a President of Healthcare Staffing Technologies.
Expect more moves like this in the future. As cloud based systems become more and more important, businesses will think hard about the role of technology.
As such, it's important that your healthcare staffing firm develop a distinct technology strategy.
Find the Best Medical Recruiting Tech
If you want to catapult into the leading position, you must survey the landscape of healthcare staffing software. Gravitate toward the best in modern software solutions.
To find the most optimal solutions, you need to turn to user reviews.
Per diem health staffing, nurse staffing, travel nursing and home health care aide staffing, for example, are each very important to the majority of healthcare staffing organizations. Healthcare staffing solutions can make it easier to find individuals for these on-site roles, quickly.
Healthcare Is Changing—So Is Healthcare Staffing Tech
How will you uncover technology that gets you where you need to be? Seek out technology vendors that are not content for the status quo—that innovative at every turn. JobDiva is exactly that technology.
Take texting for example. As Healthcare Finance writes, "More and more hospitals are using texting. Secure messaging has even been called the digital health tool of the 21st century."
Thus, by acquiring technology that has an easy-to-use candidate texting solution, you'll be stepping headlong into 2020-era recruiting.
Active candidate engagement can help you stand out among competitors. Plus with HR software that works wonders, engagement is easier.
Candidate Texting for Healthcare
Let's return to our example of texting.
In Healthcare Finance's example, one health network used candidate texting to communicate with nearly 1800 applicants. They received an 83 percent response rate. That's highly impressive.
JobDiva has native candidate experience technology, developed in-house to be used within JobDiva's system. With this tool suite, you don't have to pick up a phone to text talent. With this kind of healthcare HR software under your control, recruiting becomes easy.
What does this mean?
Candidate texting is just part of a larger consultant engagement suite and AI functionality, both of which are redefining healthcare recruiting software and creating a new brigade of staffing leaders. This is the latest technology, easy to use, delivered to you instantly over the cloud.
Partner with JobDiva and Lead Healthcare Staffing
JobDiva allows healthcare staffing organizations to find the best-fit talent faster than the competition, thus broadening their market share.
Overall, JobDiva fulfills the promise of digital, intelligent technology in the 2020s. JobDiva advances the capabilities of the modern staffing organization, to such an extent that work becomes easier and recruiters become far more effective.
This leads to better results, happier team members and greater growth. Teams that adopt JobDiva soon triumph, becoming the fastest-growing companies in their sectors.
To learn more, take a look at JobDiva's TalentBurst Case Study. (TalentBurst is a major Life Sciences and IT staffing organization.) With JobDiva's healthcare HR software at their fingertips, TalentBurst experienced rapid global growth.
Partnering with JobDiva helped TalentBurst grow 200+% and become a major leader; you could be next.