Candidate Management System
A comprehensive system for sourcing and managing candidates. A Candidate Management System helps recruiters track the various steps in the hiring process. This is useful for Talent Acquisition professionals.
If you're wondering what is candidate management, it is the tracking of candidates as they move through the hiring and on-boarding process.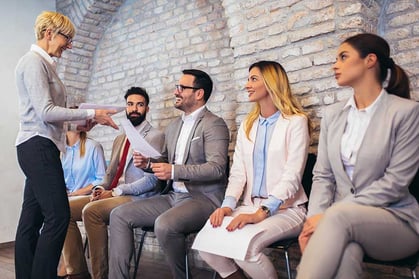 More Details, Please!
A Candidate Management System is like an applicant tracking system but more specific to candidates. It is used to identify candidates who fit roles, and to see where candidates are in the recruitment process. And to follow them through it from beginning to end.
This software sources candidates and then lets users match them to job requisitions. It records their process through the recruiting lifecycle all the while. Candidate management systems comprise a set of recruiting tools that are easy to use and extremely powerful if deployed correctly.
JobDiva incorporates all these elements in a single system. With this technology, user experience becomes seamless.
What About Paperwork?
Have you been considering adopting a new Candidate Management System (CMS), sometimes known as a Talent Management System? You need to know exactly what a CMS is when compared to other, similar products.
Hiring teams use Candidate Management Systems to track and source candidates and applicants for the purposes of hiring. A Candidate Management System is a software solution used to "digitize" the talent pool.
With a good Candidate Management System, paperwork becomes almost obsolete. Automation carries the day, and recruiters can spend more time on candidate outreach. And recruitment marketing.
Once the candidate has been found, through job boards and other means, the rest is simple. Recruiting activities are recorded and tracked. The user can search a database for specific candidates, rather than using a real-life filing system.
The Online Recruitment Management System: a Primer
However, a CMS does not only digitize. It also automates. It performs tasks that recruiters and hiring managers would normally need to perform individually.
A cloud-based CMS will often be ranked based on how much of the recruiting process it can automate. And how well it does at this. There are certainly other factors too. But the scale of automation is significant.
The Candidate Management System overlaps with your other systems, too. That includes your back office and Customer Relations Management systems.
When you have all three of these functioning in sync, your Talent Acquisition team can become truly unstoppable. To be competitive in today's world, you need the most impressive solutions. Period.
Questions to Ask About a Recruiting Management System
Receiving a demonstration of a Candidate Management System? Be sure to ask a couple key questions.
Has the CMS developed their most important functionalities in-house? If not, that might be a red flag. CMSes that develop their core functionalities themselves are more reliable. Generally, they feel more cohesive. Plus, you will not need to rely on an external provider for support and maintenance.
You should ask whether the Candidate Management System has 24/7 customer support and unlimited free training.
This is very important. Why? Any valuable CMS will have a learning curve. Thus, you will need to maximize available support and training. It is better that you have access to robust training.
Candidate Management in Recruitment: How Important Is It?
In case you're wondering how important all this is, the answer is simple. Very important.
Innovation is the name of the game today. If you're going to find the top talent, you are going to need the best technology.
In today's crowded marketplace, you need to do all you can to distinguish yourself. A top-performing CMS will help you source, pinpoint and track the best talent ahead of competitors.
That is of the utmost importance. To create the client relationships you need to effectively drive your business, you need to maximize delivery. And to do that, you need fast-moving, accurate software solutions.
The Candidate Management System You've Been Waiting For
JobDiva's Talent Acquisition solutions include a top-rated, award-winning CMS. That's in conjunction with JobDiva's Applicant Tracking and Contact Relationship Management systems. JobDiva's future-forward solutions must be experienced—their capabilities outshine any possible description. To explore the technology JobDiva offers, click here to request a demonstration.
CRM
JobDiva
Talent Management
ATS
E-Recruitment
SaaS
Talent Acquisition
Client
Recruiting Software
Staffing Software
Screening