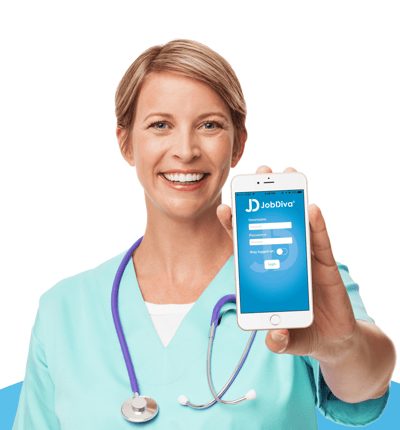 "The ease of use and interface-it's visually appealing. All the clusters make it organized and easy to find what I'm looking for, whether that is a talent search, job search, or report of notes." - Whitney B. ADEX Medical Staffing
"I really like the overall database of JobDiva. It is easy to locate candidates and find contact information. The attachments folder is a great tool to save the documents that we utilize on a daily basis, with ease of access. It is easy to reach the phone numbers, emails and addresses. The texting feature is great to be able to communicate with candidates about reminders and updates needed." - Abigail E. ADEX Medical Staffing
Very intuitive, fantastic customer service, streamlined business flows, and tremendously flexible solutions. - Jourdan B. Staffing the Universe
Become a Healthcare Recruitment Outsourcer
Become the HR department of choice for hospital systems, physicians' groups and more.
JobDiva helps reduce costs by finding you trained professionals with agility.
Deliver must-have healthcare professionals at a fraction of your competitors' cost.
JobDiva always reflects the latest standards and regulations in the healthcare industry.
Healthcare Workforce Solutions
Need to schedule a nurse for urgent care tonight? Schedule shifts for healthcare roles on the fly.
Specify different bill rates for different positions.
Set employee availability and locate qualified, available candidates instantly.
JobDiva is built for per diem, locum tenens, government contracting, allied healthcare, and many other healthcare staffing types
Onboarding, Pre-Onboarding and Credentialing
Use JobDiva's credentialing system to pre-onboard your candidates.
Know instantly who pre-qualifies for an opening with JobDiva's pre-onboarding system.
Speed up onboarding with JobDiva's E-Verify System.
Stay compliant with JobDiva's licenses/certifications and background check modules.
Business Intelligence Solutions for Healthcare
JobDiva warehouses years of your data and automatically analyzes it.
Provide health systems in-depth, visualized reports and win more business.
JobDiva's Business Intelligence tools show the latest on locations, facilities and roles
Meeting Diversity Requirements
Recruit for clients that emphasize diversity with JobDiva's subcontracting process.
Diversify your spend with JobDiva's EEO report.
The EEO report forms an audit trail.
Robust Client and Candidate Communications for Healthcare Staffing
Stay in communication with candidates and clients using JobDiva's email integration.
You can carry on an entire text conversation from within JobDiva.
Emails and text messages will be saved in the system. Phone calls can be tracked.
Send skills competency tests through JobDiva's e-interview platform.
On-the-Go Mobile Healthcare Tracking
Use JobDiva's iOS/Android App to communicate with employees and clients on the go.
Send texts, emails and more from the App.
Use your mobile App to find must-have information while out and about.
View and approve your assigned staff's timecards directly from the App.