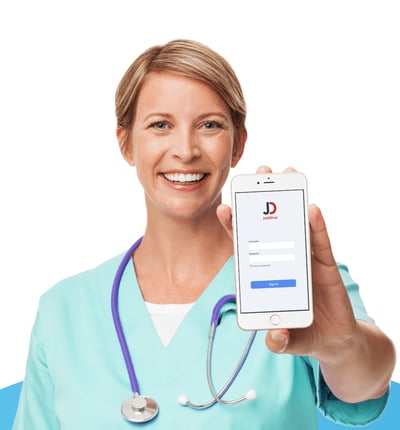 "The ease of use and interface-it's visually appealing. All the clusters make it organized and easy to find what I'm looking for, whether that is a talent search, job search, or report of notes." - Whitney B. ADEX Medical Staffing
"I really like the overall database of JobDiva. It is easy to locate candidates and find contact information. The attachments folder is a great tool to save the documents that we utilize on a daily basis, with ease of access. It is easy to reach the phone numbers, emails and addresses. The texting feature is great to be able to communicate with candidates about reminders and updates needed." - Abigail E. ADEX Medical Staffing
Very intuitive, fantastic customer service, streamlined business flows, and tremendously flexible solutions. - Jourdan B. Staffing the Universe
Become a Healthcare Recruitment Outsourcer
Become the HR department of choice for hospital systems, physicians' groups and more.
JobDiva helps reduce costs by finding you trained professionals with agility.
Deliver must-have healthcare professionals at a fraction of your competitors' cost.
JobDiva always reflects the latest standards and regulations in the healthcare industry.
Healthcare Workforce Solutions
Need to schedule a nurse for urgent care tonight? Schedule shifts for healthcare roles on the fly.
Specify different bill rates for different positions.
Set employee availability and locate qualified, available candidates instantly.
JobDiva is built for per diem, locum tenens, government contracting, allied healthcare, and many other healthcare staffing softwares
Onboarding, Pre-Onboarding and Credentialing
Use JobDiva's credentialing system to pre-onboard your candidates.
Know instantly who pre-qualifies for an opening with JobDiva's pre-onboarding system.
Speed up the onboarding process with JobDiva's E-Verify System.
Stay compliant with JobDiva's licenses/certifications and background check modules.
Business Intelligence Solutions for Healthcare
JobDiva's staffing software warehouses years of your data and automatically analyzes it.
Provide health systems in-depth, visualized reports and win more business.
JobDiva's Business Intelligence tools show the latest on locations, facilities and roles
Meeting Diversity Requirements
Recruit for clients that emphasize diversity with JobDiva's subcontracting process.
Diversify your spend with JobDiva's EEO report.
The EEO report forms an audit trail.
Robust Client and Candidate Communications for Healthcare Staffing
Stay in communication with candidates and clients using JobDiva's email integration.
You can carry on an entire text conversation from within JobDiva.
Emails and text messages will be saved in the system. Phone calls can be tracked.
Send skills competency tests through JobDiva's e-interview platform.
On-the-Go Mobile Healthcare Tracking
Use JobDiva's iOS/Android App to communicate with employees and clients on the go.
Send texts, emails and more from the App.
Use your mobile App to find must-have information while out and about.
View and approve your assigned staff's timecards directly from the App.
***
Reimagine Healthcare Staffing Technology
Healthcare staffing is at an inflection point. Even as hospitals post employment gains, they are shedding jobs due to burnout and financial reorganization. Healthcare recruitment can fill the gap left behind--but enterprises need the ideal technology to perform at their most effective.
What should you look for in staffing technology for healthcare staffing, including medical, paramedical, and nurse staffing? Different people provide different answers to this question. However, it's time to cut through the noise and get down to the brass tacks of business value, performance, and people. In recruitment, that's what counts; that's where candidate and recruiter success resides. In short, it's where the future of an enterprise is decided.
Healthcare Staffing Platforms: Speed, Communication and Flexibility
Whether you're recruiting for per diem nursing, locum temens, government contracting, paramedical, or other healthcare-related roles, it is imperative that you operate quickly, adaptably, and communicatively. Because roles tend to be filled fast in order to overcome gaps in hospital and health system staffing, you must move fast, with plenty of accuracy on your side.
Though you might have healthcare staff ready to go at a moment's notice, your technology systems should be state-of-the-art in communication, candidate experience, and talent engagement. Make sure your platform helps quickly notify candidates of roles and get shifts scheduled, so that they--and you--have less to stress about. That's going to improve candidate retention, raise recruiter quality-of-life, and reduce healthcare-staff burnout.
Improved Technology, Improved Results, Reduced Stress
Currently, there's a lot of opportunity for healthcare staffing enterprises to plug gaps in health and hospital systems. The demand is there, but how can you match it?
That isn't a question you have to stress about if you're leveraging the top-tier staffing platform. JobDiva's toolkit of products and services makes the entire recruiting process easier, faster, and more flexible (which is a must in a fast-moving market).
As well, JobDiva gives recruiters and managers the ability to do more in less time, helping them reclaim their days and lessen stress. Candidates, for their part, feel like everything is falling into place. They're on the receiving end of top-notch communications, seamless onboarding, the right role at the right time, and more. All of this comes together in an easy-to-use, intuitive platform suited for the dynamic pace of today's recruiting organization.
Request a Demonstration of JobDiva; See Excellence at Work
It's time to save time, lessen stress, and boost results. To put it simply, success in healthcare staffing software development requires cutting-edge technology that drives up quality-of-life across the board. JobDiva, G2's #1 highest-rated staffing software, fits the bill and then some. Request your free demonstration below to see what makes this platform a class all its own.