Job Board Integration
A function in Applicant Tracking Systems whereby users post their jobs. JobDiva's Job Board Integration is seamless and fully automated.
Job board integrations are critical to ensuring a smooth application process. Read on to learn more.
Why Do I Need Job Board Integrations?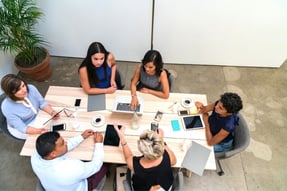 In modern recruiting and hiring, you need to drive traffic to your jobs. But how? You don't want to spend time and funds on marketing when you don't have to.
This is the role of job board integrations. When your software has job board integrations, your jobs advertise themselves; job seekers can easily apply by finding your jobs on public job boards. Best of all, the job process posting can be automated, if your software is set up for it.
Job board integrations will help drive talent to your open jobs, shortening your time to fill. While you might still have to reach out to individual candidates, it's far better to have parallel tracks of job board postings and candidate outreach. That way, you can guarantee your jobs will have higher traffic.
What About Social Media?
You might be wondering, how about social media postings? You can find recruiting software that integrates with social media as well, such as Facebook and Twitter. Such software will be useful as you continue advertising your open jobs.
According to Statista, 79% of the population has a social network profile. So if your software can post jobs to such sites, you're increasing your visibility in a major way. However, the advantage that job boards provide is, perhaps, greater. Why? Well, partly because candidates are coming to job boards in the hope of finding a job. You don't have to get them into that sales funnel; they're already ready for a job.
Automation in Job Board Integrations
For job seekers, the job search can feel like a full-time job. That's where you come in. By posting your jobs on job boards, you can take the burden off of candidates. They will hugely appreciate that.
Automation and AI can be very helpful in this process. Often, recruiting software can be used to automate the posting of jobs on job boards. That's assuming your software has this. Check with your software provider to see whether they offer automation and AI for job board posting.
How Does Automation Help?
Ultimately, automation helps rationalize and standardize your job posting process, making it possible to attract candidate traffic faster and with less effort. Individual recruiters have to do less tedious, repeatable work. The amount of clicks drops greatly. It's easier and more intuitive to post jobs for applicants to see them. Plus, applications can appear automatically in your recruiting system.
So What Do I Do?
As we've mentioned, job board integrations are hugely important for the application process. And automation, in combination with these integrations, can vastly improve your business's growth potential.
You just have to ensure your software has these capabilities. But how? Hold your vendor accountable, and make sure they have cutting-edge automation that interacts with job boards.
Ask pointed, specific questions. Do research. Read user reviews. Do your due diligence.
Job Aggregators
Job aggregators are like job boards, but they gather the jobs from job boards across the open web. They then re-post those jobs on their systems. They are not the exact same as job boards; instead, they include jobs from the job boards.
Many new models of job boards are becoming popular. For instance, Resume-Library lets you 'unlock' a resume, for a fee-based credit, when you see skills and experience you like. The 'locked' resume does not have the candidate's contact or personal information, only his or her skills and experience.
It is not only aggregation you should look for in a platform. Also important is how the platform makes sense of all that aggregated data. How it packages, analyzes, and presents that data for you.
So it isn't only big data that is crucial. If you have big data but no interpretive technology, no data analytics, that big data is basically useless. Job board search engines can be helpful, but your platform should be able to easily analyze and sift through aggregated results.
You might also look at: