Opportunities and Solutions for IT Today
Today, Information Technology (IT) is the site of manifold new changes, challenges and opportunities. As Deloitte's analysts point out, "cloud computing and flexible consumption" are "indispensable" aspects of an organization's success today. With the digital transformation firmly in place, countless firms are planning to raise their IT spends.
How do we know? As IDG says in their 2018 Digital Business whitepaper, fully 89% of organizations plan to or already have made digital technology core to their enterprise. This is an opportunity for IT solution providers to expand, grow and scale. But this is only possible if you are ready to distinguish yourself in the marketplace.
Financial services, telecommunications and technology firms will be expanding their digital resources. Therefore, IT operations, including for the installation of cloud computing systems, will be vital as businesses up their digital spends. How will you make this opportunity into a reality? How will you solidify your position as one of the fastest growing, signature IT and telecom firms?
The IT staffing solutions market will grow—and firms will only become more competitive for open requisitions. But one question remains: how will staffing vendors retain a competitive edge? How will they lead the market?
JobDiva's Recruiting Software Leads the Way in IT
IT staffing grossed $34 billion in revenue in Americas in 2018—according to Staffing Industry Analysts. With many firms now expanding their IT spend for digital technology, this number should only increase.
With their award-winning talent acquisition products, JobDiva currently services the vast majority of IT contract staffing. According to JobDiva's estimates, JobDiva services 25% of contract staffing overall. What makes JobDiva so compelling to leaders of IT consulting and staffing? JobDiva's PaaS (Platform as a Service) cloud-based recruiting systems give staffing organizations the tools to outshine the competition, by recruiting faster and more accurately. For JobDiva's clients, their highly efficient recruiting processes depend on JobDiva's toolkit of solutions.
JobDiva's end-to-end platform offers firms the capabilities to support any of their clients' IT projects, from must-fill-immediately contract positions to longer-term cloud computing setup operations.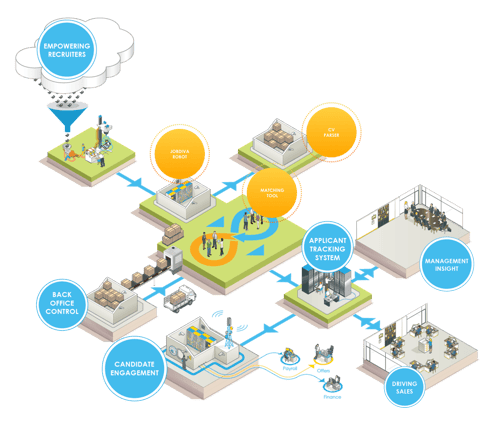 IT Staffing Is Growing—How Will You?
As SIA estimates, the IT staffing segment comprises fully "38% of global professional temporary staffing," reaching $66 billion in worldwide revenue. The growth in the IT staffing sector is off the chart. In fact, as SIA makes clear, IT staffing sector growth is being driven primarily by:
The prioritization of flexibility and scalability as tech cycles are reduced
The realization by buyer leadership that digital transformation can increase their market share
Both of these factors have led to a firmer emphasis on temporary staffing in the IT staffing sector. IT staffing is set to soar into the future, as the Internet of Things (IoT), AI, machine learning and natural language processing help businesses enhance their market share. The fastest growing staffing firms are already seizing the opportunities offered by these developments.
Interested in hearing directly from JobDiva's clients? Check out this video to learn how JobDiva enables proactive recruiting for eTeam, one of the premier IT staffing solution providers:
As SIA's research report finds, the financial services and telecommunications industries are more forward-thinking than most, with respect to new technology. They should be increasing their IT spend in the very near future. Telecommunications had the highest IT spend in 2018, at 31% out of all verticals.
Yet IT staffing service providers need to access the most able, agile and powerful recruiting systems. As SIA phrases it, the IT sector "is evolving at a feverish pace." And so to lead, turn to the software system with the best track record. JobDiva is the highest-rated recruiting platform for 2019, TrustRadius says.
JobDiva is architected by the best minds in staffing to help staffing firms flip challenges into opportunities, greatly expanding clients' gross margins. From speed-to-market to process automation and data analytics, JobDiva's platform allows you to outperform in IT staffing, one of the fastest growing sectors. The fact is, you need to be responsive, fast and strategic in how you respond to job orders.
JobDiva's future-ready tools give you the ability to recruit for any skillset at any time, making clients, recruiters and hiring managers all extremely happy. To see how JobDiva's recruiting systems have helped IT staffing firms grow 200+%, view JobDiva's Recruiting Systems Case Study, an excerpt of which is available below. This case study shows you how JobDiva's talent acquisition products make your business more agile and powerful, giving your team the tools to provide market-leading services in a highly competitive arena.