DivaBuzz, JobDiva's Native Texting Solution
Business is complex, global, fast to evolve. You need a software system that can not only handle it, but in fact move ahead of the marketplace.
How so?
One major instance of this is texting. Candidates and clients, like the rest of us, are always checking their phone for updates. In the digital age, many folks do not have time to answer their phones. It's far easier to reach them via text messaging for recruiters.
That's where JobDiva's DivaBuzz solution enters the picture. As JobDiva's native text message software for recruiters, DivaBuzz lets you compose, send and view text messages inside JobDiva. There's no need to use or reference your smartphone. Though if you are on the go, you can use the DivaBuzz Mobile App to text via JobDiva, and each text will be recorded in the system.
There's no need to break away from managing candidates and contacts to send a text message. Focus your attention wholly on business. With DivaBuzz, text right from your web browser, inside JobDiva's platform. To learn more about how text messaging for recruiters can help you, read JobDiva's blog post.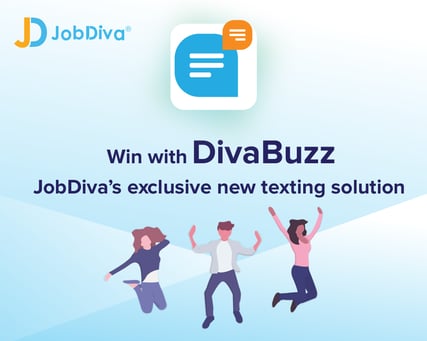 Texting Centralized in One Software Solution
Unlike other solutions, you do not have to work with a third party to acquire and work in DivaBuzz. Instead, JobDiva delivers DivaBuzz simply as part of its ecosystem. There's no middleman involved—DivaBuzz is tightly woven into the tapestry of JobDiva's products and services, making DivaBuzz easier to learn, adopt and harness.
Let fast, easy-to-track texting drive your candidate and contact outreach. DivaBuzz helps your candidates and contacts feel cared for. In a positive feedback loop, candidate and client retention boosts upward, and your firm gains a greater reputation for quick, effective communication.
DivaBuzz, Your Strategic Texting Partner
JobDiva delivers a complete digital workspace for recruiting, staffing and Talent Acquisition professionals. As part of this delivery model, DivaBuzz lets you text while working in JobDiva, deepening the all-in-one experience that today's professional needs to work effectively.
Each minute of recruiting and business development time matters more than ever. DivaBuzz lets you do more, with less effort and better engagement for talent and contacts.
In addition, JobDiva keeps a comprehensive record of all text messages sent and received via DivaBuzz. Easily analyze your text message traffic, gain insight into your team's engagement and never miss a single communications.
Text Messaging for Recruiters
Instant text messaging directly through a recruitment system improves results. As Inc writes, texting candidates can help you find talent quicker.
DivaBuzz's technology lets you send mass texts to the latest available talent, helping you reach a wider talent pool using a method that many candidates prefer to phone calls. Through DivaBuzz, you can even use a toll-free phone number to do so.
This way, recruiters don't miss a beat. They don't have to resort to their phones to text individually. They can use a toll-free number to, through JobDiva on their web browser, text large amounts of candidates at once about a job. This boosts efficiency and drives more effective candidate engagement.
DivaBuzz Is the Digital Texting Solution of the Future
As the market evolves, so do candidate and contact preferences. Stay up to date and reach out with ease. From in-browser texting to mass texts, JobDiva's DivaBuzz gives you the power to reach more people with greater ease.
Read a case study of how JobDiva's suite of solutions helped TalentBurst grow, and then request a demonstration today.