DivaBuzz® - Native Text Messaging
Text Recruiting Software for Recruiters
Transform your candidate and contact outreach with DivaBuzz®, our powerful inbuilt texting feature.
Reach candidates right onto their mobile phones with bulk, customizable, and trackable text messages.
90% of job seekers prefer to receive text messages during the application and hiring process.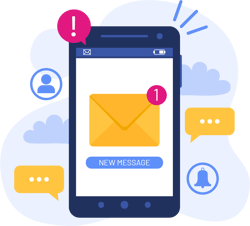 28 - 33%
the average email
open rate
90%
the average open rate for a text message
97%
messages being read within 15 minutes of receipt.
DivaBuzz®, The Perfect Texting Tool

Inbuilt
DivaBuzz® is native to our solution's environment and doesn't require any third-party plugins. This makes it very intuitive to work with.

Synergistic
DivaBuzz® works beautifully with DivaReach to engage candidates at the right instances. With a full gamut of smart communication possibilities, your candidates will feel accompanied and cared for throughout the recruitment process.

Trackable
Follow the trail of your texting activity in BI reports, dashboards and individual records.

Accessible
Compose, send and view mass text messages right from your JobDiva web interface or from the dedicated DivaBuzz® Mobile App. You can even use a toll-free phone number to do so.