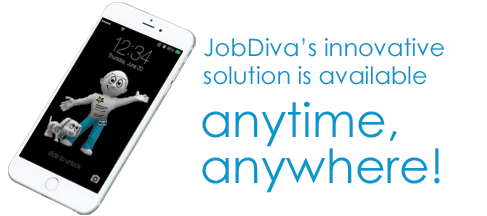 Bring JobDiva to your iPhone, iPad, or iPod and get access to jobs, candidates or contacts anywhere! The App is also available for Android via Google Play.
Download app link:https://itunes.apple.com/us/app/jobdiva/id658310674?mt=8
Download app link for Android:https://play.google.com/store/apps/details?id=com.jobdiva.jdmobile&hl=en
JobDiva, the ultimate business management platform for the staffing industry, is now available as an App to further increase your productivity as a recruiter, salesperson or manager.
Key Features
Jobs Dashboard
Respond to submittals, book interviews, and confirm start dates. Control the entire recruiting workflow from the Mobile App.
My Jobs
Dive deep into your data. Access notes, activities, and users related to specific jobs.
Push Notifications
Receive automated alerts via push notifications.
Candidate and Contact Look-up
Carry your CRM with you. Quickly access candidates and contacts by name and/or contact information. New features continue to be issued free to all JobDiva Users.
DivaMobileTM
You can access DivaMobileTM, a simplified JobDiva® interface, from JobDiva's website on your mobile device. DivaMobileTM allows you to look up JobDiva® contacts, view and add notes to their records, and more.
For more information, contact us at support@jobdiva.com