Applicant Tracking System (ATS)
An Applicant Tracking System (ATS) is a software solution designed to source candidates for job orders, manage the talent acquisition process, retain applicants in a database, track important business metrics, and more. The top Applicant Tracking Systems will include other versatile features, such as contact relations management, job posting, on-boarding and back-office software, and robust dashboards.
JobDiva, for example, has those features, plus much more underneath.
ATS Systems: What Do I Look for?
For best business results, staffing software systems should have innovation, ease of use and a streamlined user experience. Certainly, there are many products available on the market, but very few can do all of the above with excellence. You'll want to seek out solutions that perform with cutting-edge power while also being very easy to use. Solutions like this will be more than worthwhile. They will transform what your business is capable of, channeling your present potential into far greater market share.
You should look for Applicant Tracking software that features strong and stable mobile technology, data analytics, a recruitment and sales CRM and robotic recruiting tools. But these are only some of the essentials when it comes to today's Applicant Tracking System. There are many more functionalities linked to a recruiting ERP's core competencies, such as talent databases, candidate searches and open integrations.
What Is an ATS? An in-Depth Look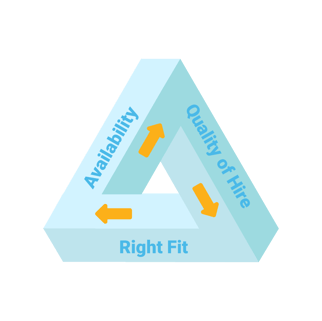 An ATS is, in many ways, an ecosystem for software tools to help a recruiting organization. But ATSes are more than the sum of their parts. They also consist of the workflow generated by these parts, the connections between tools. This workflow should be easy to follow and track most steps in your process. It should not have discontinuities and gaps.
An ATS's functionalities must be integrated into a holistic platform which seamlessly connects staffing professionals to candidates, customers and one another.
In practice, that means user experience is at its most effective as a cohesive ecosystem. Every functionality links up with every other functionality, connecting every department in a staffing/recruiting firm. The system should work automatically and speedily to accomplish the firm's daily, weekly, monthly, quarterly and annual goals.
The recruiting process features a broad array of tools, but they all work toward a common end—business growth through enhanced speed-to-market, time savings and heightened accuracy. The business moves as a single organization, wholly dedicated to a single candidate pipeline but coordinating multiple spheres of operation. Your software should promote this high watermark of software performance through highly robust, multi-layered features and services.
This means that using the recruiting system will feel intuitive. You should feel that your daily staffing labor is easy to accomplish via the Applicant Tracking System. You should feel that for each one of your tasks, the Applicant Tracking System provides a solution—a way to work more efficiently and effectively.
You should also feel that your Applicant Tracking System guides you naturally through the recruiting process.
What About Adaptability in Today's Marketplace?
In addition to efficiency and effectiveness, an Applicant Tracking System should prize adaptability. In a fast-paced market environment, adaptability is a key factor in high-powered recruiting.
Today's companies cannot rely on efficiency and effectiveness alone for success, though they also must have these strengths in place. Adaptability is of high importance. When the market moves, a business must move with it. Or, even better, predict where it's headed. Staffing software can help with that.
So it is with Applicant Tracking Systems. An ATS must be able to predict transformations in the market and automatically guide staffing businesses in the right direction. That's crucial to establishing success—ATS systems that do not simply automate recruiting functions but guide recruiters, and other staffing professionals, in the direction of the right action to perform.
This is not only AI. It's "cyber" recruiting, and it's the future of the Applicant Tracking System. Generally speaking, you want to be sure that you can trust your vendor to deliver consistently and remain in existence. Clearly, there will always be some uncertainty in business, but you do not want a vendor who suddenly decides to shut down, like Google Hire. Transparency between supplier and software vendor is key.
Additionally, make sure that your staffing software partner provides service on demand. Definitely avoid getting locked into long contracts. On-demand software partners should earn your subscription fee monthly. The whole point of cloud-based software is that you can plug-and-play. This helps preserve flexibility. When you don't need your software products, you should be able to 'unplug'; with today's SaaS/PaaS technology, that's easier to accomplish. Your payment schedule and terms should reflect that reality.
To summarize, adaptability is core to successful recruiting software. It's more difficult to measure than effectiveness and efficiency, but as an area of performance, its effects are longer term.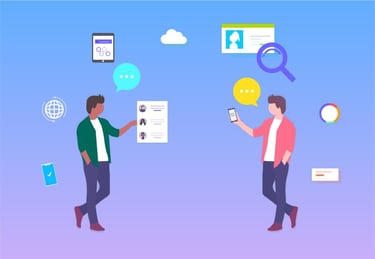 What About Open Systems?
Good recruiting and staffing ERPs will have open integrations. What does that mean?
Strong, reliable systems will integrate with a large selection of products and integrate with more upon a client's request. These are called open platforms, and JobDiva is easily the most impressive among them. Offering 200+ integrations and VMS integrations, JobDiva continuously integrates with new external products. With seamless data migration and an ever-expanding array of integrations, JobDiva stands as the leading open platform, giving clients the freedom and flexibility to use external services from within JobDiva's systems.
What Does ATS Mean?
ATS means Applicant Tracking System, but today's best ATSes do so much more than track applicants. Tracking applicants and automating recruiting is perhaps the core of any Applicant Tracking Product; but the value of a great recruiting system extends beyond that. With the right ATS, you're not only saving time and money. You're also making recruiters faster, giving them access to tools that can double or triple their speed-to-market.
Applicant Tracking solutions should have a broad canvas of available options and delivery capabilities. These should include CRM, back-office/on-boarding, business intelligence technology, data analytics and robust consultant engagement. Think of recruiting software products as an engine driving growth and reducing SG&A. Like an engine, you want it to be as robust as possible, not a basic offering. Recruiting systems should house a wide array of recruiting functionalities, so they can assist and guide the entire office, from front to back and start to finish.
These are the ATS systems of the future. They encompass an entire workday from beginning to end, continuing once you leave the office. They work 24/7 to collect data and help recruiting professionals be more productive. These are truly innovative recruiting solutions. Only the top ATSes fit this definition, however.
Make sure you do research into different systems, and take user reviews into account. Though any busy staffing organization might not have time to investigate all technology options fully, you should do your due diligence. You'll thank yourself later.
You might also look at: